Can Heatstroke Injuries Qualify for Florida Workers' Comp Benefits?
Florida is known for being hot and in some cases muggy. Temperatures can be very high as Florida has mild winters and sultry summers. Heatstroke is not something that many Floridians are unfamiliar with. Heatstroke can happen to workers that perform jobs outdoors like in the case of some construction workers, or indoors. There are instances when temperatures indoors soar so high, they exceed the temperatures outside. When a building isn't equipped with the appropriate systems to ensure proper air circulation, necessary ventilation, and it doesn't maintain a comfortable environment through air conditioning, the building poses a danger to those that are working inside.
The Occupational Safety and Health Administration provides guidelines for workers regarding the risks they face working in environments with various temperatures:
Environments with temperatures lower than 91 degrees Fahrenheit are low risk.

Environments with temperatures between 91 and 103 degrees Fahrenheit puts workers at moderate risk.

Environments with temperatures between 103 and 115 degrees Fahrenheit are high risk.

Environments, where the temperatures exceed 115 degrees Fahrenheit, are at extreme risk.
Employers must have plans and take safety measures for their work environment based on the temperature to keep their employees protected from harm.
What is Heatstroke?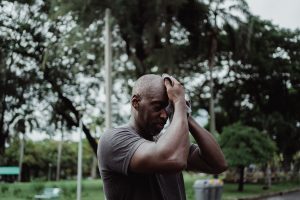 When you sweat, this is your body's mechanism to cool down when it is exposed to excessive heat. Blood circulation is another way that your body naturally tries to keep your internal body temperature stable. The body is very good at what it does and in most situations can be effective at internal temperature maintenance without other interventions. However, in extreme situations where the temperature is very high, the body may struggle to regulate a person's internal temperature. When your body is unable to keep your internal temperature at a safe level it will overheat and put a person's physical well-being at risk. 
A person suffering from a heat-related illness will need to have treatment administered quickly to avoid potential life-changing injuries and even in the most serious circumstances, death. Signs of a heat-related illness include:
Fatigue

Vomiting

Painful headaches

Weakness

Dehydration

Massive sweating

Confusion and dizziness

Irregular heartbeats

Agitation

Fainting and loss of balance

Very high body temperature

Hot, flushed skin
It is vitally important that employers and employees who work in an environment which can have high heat know what to look for when it comes to heat-related illness and what steps to take to help a victim. A victim who suffers injuries or loses their life as a result of a heat-related illness that developed at work has the right to pursue workers' compensation benefits in Florida. 
Speak to a Florida Workers' Compensation Attorney Today
Stephen M. Andrews is a Florida workers' compensation attorney that can help you with your Florida workers' compensation claim after you were injured while on the job. If your spouse died as a result of their Florida workplace accident injuries, you may also receive benefits. Stephen M. Andrews can discuss with you what your options are for obtaining Florida workers' compensation benefits during a free consultation. Call today at (850) 906-9599. 
Deprecated
: Function WP_Query was called with an argument that is
deprecated
since version 3.1.0!
caller_get_posts
is deprecated. Use
ignore_sticky_posts
instead. in
/var/www/wp-includes/functions.php
on line
5737