Examples of Compensable Florida Workers' Compensation Injuries
Workplace injury accidents are very common in the United States. Statistics show that these incidents happen so often, every seven seconds a worker sustains injuries while on the job. Workplace accidents don't just cause injuries, they can also be fatal. In 2017 there were more than 5,000 people who lost their lives in a workplace accident which breaks down to over 14 work-related deaths that took place each day that year.
In the state of Florida, businesses carry Florida workers' compensation insurance. Almost every business is required to do so because if an employee has an accident while working, they have the ability to have their medical expenses paid for, and potentially, a portion of their wages paid. When you have been injured or if you lost your partner in a Florida workplace accident, call Stephen M. Andrews to help you with your Florida workers' compensation claim. You deserve the full amount of benefits to help you with the losses you have had to endure.
What Injuries are Compensable?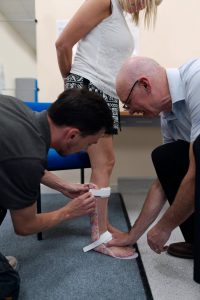 Death and chronic illness caused by a hazardous workplace environment are both compensable. Outside of these extreme situations, any person who is involved in a situation at work that leads to an injury has the right to receive Florida workers' compensation benefits. The Travelers Indemnity Company did a study over a five-year period of time looking at workplace injuries across the country. The following don't represent every compensable injury that can happen but these injuries were found to be the most common that received compensation from the workers' compensation system:
Strains and sprains made up 30% of all claims.

Cuts and lacerations resulted in 19% of all claims.

Contusions made up 12% of all claims.

Inflammation injuries were behind 5% of all claims.

Bone fractures were responsible for 5% of all claims.
Together, these workplace injuries made up 71% of all the workers' compensation claims that were analyzed during the fiver year people of the time. Inflammation issues caused workers to miss most days of work. The average benefit amount that inflammation claims received was approximately $24,500. The highest average benefit amount that was dispensed was those for amputations, which on average yielded $102,500.
It is important for injured workers' to understand their rights when it comes to obtaining Florida workers' compensation benefits. Being injured at work doesn't always result in securing benefits and there are many reasons why. There are a number of challenges that injured workers face when they pursue a claim, including pushback by insurance companies to deny claims. Florida workers' compensation benefits require an extensive amount of paperwork to be done, and if anything is amiss in any way, you can have your claim denied. Additionally, both businesses and their Florida workers' compensation insurance providers may argue that your injuries did not happen at work and therefore are not eligible for benefits.
How to File a Successful Florida Workers' Compensation Claim
Statistics show that the best strategy for a successful Florida workers' compensation claim is to work with an established and experienced Florida workers' compensation lawyer. Stephen M. Andrews is a Tallahassee workers' compensation attorney with decades of experience helping injured workers obtain a fair Florida workers' compensation settlement in the least amount of time.  Schedule your free consultation with Stephen M. Andrews today by calling (850) 906-9599.
Deprecated
: Function WP_Query was called with an argument that is
deprecated
since version 3.1.0!
caller_get_posts
is deprecated. Use
ignore_sticky_posts
instead. in
/var/www/wp-includes/functions.php
on line
5667