Is Mediation Required for a Florida Workers' Compensation Settlement?
If your Florida workers' compensation claim was denied, and you believe that shouldn't have happened you are likely going to want to file an appeal. According to Section 440.25 in the Florida workers' compensation statutes, you will have to go to mediation. Mediation provides aggrieved individuals an opportunity to see if an agreeable settlement can be made so a dispute can be resolved. The benefit of mediation prior to trial is that when an agreement does happen, the case doesn't have to go to court. Having cases go to court without mediation puts additional strain on an already busy system. In many instances, mediation works well and the insurance company dispurses a settlement to a victim that the victim believes is fair.
Working with a Tallahassee workers' compensation attorney is the best way to ensure that any settlement you agree to is truly just with regard to the damages that were sustained after your Florida workplace accident. If you agree to a settlement amount you are going to be expected to release the Florida workers' compensation insurance company of any further liability and responsibility to pay you. So, accepting a settlement that is too low and that you sign off on eliminates your ability to go back and ask for more money in the future, when you realize the money you received was not sufficient enough to pay for your damages.
How Does Mediation Work?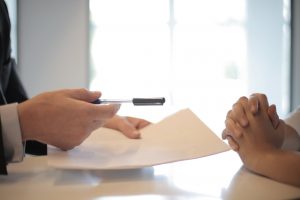 Mediation is like an informal trial where a third party who has not connected to either the insurance company or the injured worker examines the dispute and offers different options for resolution. The mediator will work between the two parties and find common ground where differences can be worked out and the dispute can come to an end. The Florida workers' compensation insurance company will have lawyers on their side debating their position and advocating for their interests. It is a good idea to also have your own legal support doing the same for you.
Even though the decision to come to an agreement and accept what is negotiated is completely up to you, your attorney will provide you with the legal counsel you need to make sure you don't sign off on a bad deal. Depending on how the back and forth goes in mediation, in general, you can expect to spend as little as one hour and as much as four hours of your time. In the event that you and the insurance company can agree on the terms of a settlement, you will avoid having to go to court which can be a lengthy process.
Speak with a Florida Worker's Compensation Attorney Today
When you work with Stephen M. Andrews, a Florida workers' compensation attorney, the goal of mediation will be for you to get what you deserve from the workers' compensation insurance company. When you leave your meeting, you will feel peace of mind that your best interests were represented and you received the amount you were entitled to in your settlement. Call Stephen M. Andrews today to schedule your free consultation where you can discuss your Florida workplace accident situation at (850) 906-9599. 
Deprecated
: Function WP_Query was called with an argument that is
deprecated
since version 3.1.0!
caller_get_posts
is deprecated. Use
ignore_sticky_posts
instead. in
/var/www/wp-includes/functions.php
on line
5667