Slip and Fall Accidents are Responsible for the Most Workers' Comp Claims
There are all types of accidents that can happen at work which can cause injuries to employees. When an injured employee in Florida has to receive medical treatment and miss time at work, they can file a Florida workers' compensation claim to obtain benefits. These benefits can help injured workers have part of their missed wages compensated as well as take care of their medical treatment. 
Of all the workplace accidents that take place, slip, and fall accidents are by far the most prevalent. This is true in Florida and across the nation. Florida workplace slip and fall accidents leading to injuries occur at a high rate. Slip and fall accidents aren't just pronounced at work, they are prevalent in many life situations and these incidents account for more than 21% of the admissions to emergency rooms for treatment annually across the country. If you have been in a slip and fall accident at work or on another entity's property, call Stephen M. Andrews. Stephen M. Andrews has practiced personal injury law and workers' compensation law in Florida for more than 35 years. Stephen M.  Andrews understands the system and knows how to build a claim for victims to obtain the maximum amount of compensation and benefits possible.
How Common are Workplace Slip and Fall Accidents?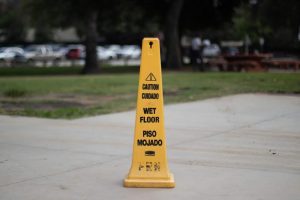 Slip and fall accidents can result in a wide variety of physical harm including cuts and bruises, brain damage, broken bones, and sprains, or soft tissue damages. The aftermath of a Florida slip and fall accident may be mild but it also can be severe and even deadly. While the elderly are one of the highest groups to suffer major slip and fall accident injuries, anyone can have life-altering results from one of these accidents.
When it comes to workplace slip and fall incidents, men are more affected than women. When a slip and fall accident takes place at work, men were shown to be 50% more likely to lose their lives than are women during the years between 1992 to 1996. Poorly maintained floors, improper flooring, unsafe flooring, and flooring materials are responsible for physical bodily harm to two million people every year across the country.
Workplace accidents from slip and fall incidents result in significant loss of production in the United States. In 2002, 22% of individuals who suffered injuries as a result of their slip and fall accidents had to stay home to recover from their injuries for a minimum of 31 days. The majority of workers' compensation claims are filed after a slip and fall accident. The cost of slip and fall accidents in the United States is significant. It costs more than $70 billion annually. Fall accidents are responsible for 16% of all injury claims that are filed.
Speak with a Tallahassee Florida Workers' Compensation Attorney Today
Stephen M. Andrews is a Tallahassee workers' compensation attorney that can help you with your Florida workers' compensation claim and fight on your behalf to help you obtain compensation for all the benefits that you are entitled to receive. Call Stephen M. Andrews today to schedule your free consultation at (850) 906-9599. 
Deprecated
: Function WP_Query was called with an argument that is
deprecated
since version 3.1.0!
caller_get_posts
is deprecated. Use
ignore_sticky_posts
instead. in
/var/www/wp-includes/functions.php
on line
5667