Florida Workers' Comp and Injuries From Horseplay at Work
All workers who are injured during the course of doing business are entitled to file a workers' compensation claim in Florida. Most Florida businesses are required to carry Florida workers' compensation insurance, so if you were injured while on the job you should inform your boss or human resources representative and then call Stephen M. Andrews. Stephen M. Andrews is a Tallahassee workers' compensation attorney who can help you file a strong and successful claim that ensures you get all the benefits you need and deserve.
While you don't have to work with a Florida workers' compensation attorney to obtain benefits, having a legal advocate on your side can help you get your benefits more quickly as well as maximize the number of benefits you receive. Navigating the complicated Florida workers' compensation system is challenging, but with the help of an experienced and resourceful attorney, the process can go a lot smoother.
Can I Get Florida Workers' Comp Benefits if I Was Responsible for My Injury Accident?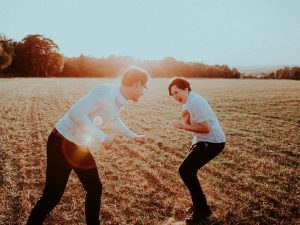 The state of Florida is a no-fault state, so even if you were responsible for your accident you can still file a Florida workers' compensation claim. There are instances where you may be denied benefits though, so working with a Florida workers' compensation attorney can be very helpful in filing your initial paperwork. An attorney can increase your chances of avoiding the need to deal with a denied claim. An attorney can also help you through the appeals process in the event of a denial.
While Florida doesn't assign fault as a determining factor that goes into obtaining Florida workers' compensation benefits, the details of your accident situation could preclude you from obtaining compensation. If you were fighting at work, this is an act that is not considered included in the scope of work, and therefore injuries from such actions are not likely to be eligible for benefits. Likewise, horseplay that leads to injuries is also not considered acceptable workplace practice and could also cause you to be unable to obtain benefits.
Now, if your workplace has an environment that allows for practical jokes and excessive fooling around amongst employees and an injury accident occurs, there may be the potential to make the argument for benefits. Another instance where benefits may be applicable in either of these two situations would be if you were at work and a fight broke out and you were hurt because of it, or if you were injured accidentally by other coworkers acting inappropriately, it is very likely that you would be able to file a claim and obtain benefits.
Do You Need the Help of a Tallahassee Workers' Compensation Attorney?
If you were injured while on the job, take no chances when it comes to pursuing all the Florida workers' compensation benefits that you are qualified to receive. With over 35 years of experience practicing Florida workers' compensation law, Stephen M. Andrews can represent your best interests after your workplace injury and ensure your legal rights are protected. Call Stephen M. Andrews today to schedule your free consultation at (850) 906-9599.
Deprecated
: Function WP_Query was called with an argument that is
deprecated
since version 3.1.0!
caller_get_posts
is deprecated. Use
ignore_sticky_posts
instead. in
/var/www/wp-includes/functions.php
on line
5737