Get Help Filing a Florida Workers' Compensation Claim for COVID
Generally, workers' compensation in Florida wouldn't cover a community-spread illness that Americans contract every day like the common cold or even the flu. However, the current pandemic with the COVID-19 virus makes some professions more hazardous for catching the virus than others. Because of this, the danger level that has increased in certain industry sectors where workers are both essential and at high risk of catching the virus has caused changes across the country with regard to what workers' compensation will cover. 
While some states have failed to pass regulations allowing for workers' compensation coverage to be applied to certain types of workers exposed to COVID, Florida CFO Directive 2020-05 allows coverage for the following workers:
First Responders

Health care workers that are employed by the state

Child Safety investigators

National Gaurd members that work with COVID-19

Corrections Officers
A positive COVID-19 test means you must quarantine no matter how you feel. When a person who tests positive is also symptomatic they could have such serious symptoms that they will require hospitalization. If you need help filing a Florida workers' compensation claim for COVID, Stephen M. Andrews can manage the process for you and potentially reduce the amount of time it takes for you to be approved and obtain the benefits you need.
Florida Has a High Rate of COVID Workers' Comp Claims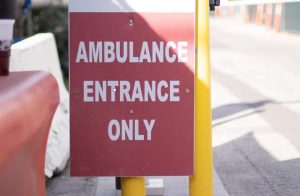 According to the National Council on Compensation Insurance, the number of COVID-related workers' compensation claims filed has been very high in the state of Florida when compared to other states in the nation. For every 100,000 active workers' compensation claims in the state of Florida, there are over 300 that are due to COVID. Based on the reporting of other states, COVID workers' compensation claims are filed at a rate 50% higher than other states in the nation.
When the claims initially started coming in, the vast majority were filed by female workers. About 70% of claims were submitted by women and one reason to account for this could be the result of specific sectors like nursing and caretakers in nursing homes that overwhelmingly are jobs held by women. Of all the active claims the NCCI looked at, 20% were individuals who had to be hospitalized because of the symptoms from the virus that the worker was experiencing. Approximately 4% of the hospitalized workers who had COVID were held in the Intensive Care Unit or needed a ventilator. The average number of days that one of these workers was hospitalized for treatment was just under 10 days.
It is known that individuals who have other chronic health conditions are a specific risk group that is more vulnerable to having serious complications and death if they contract the virus. The NCCI showed that as high as 16% of the workers that submitted a claim because of COVID fell into this risk category.
Speak with a Tallahassee Workers' Compensation Attorney Today
Being diagnosed with COVID-19 can be scary and if you need workers' compensation benefits in Tallahassee, then Stephen M. Andrews, a Tallahassee workers' compensation attorney can provide you with the legal counsel and support necessary to improve your chances of filing a successful claim. Call Stephen M. Andrews today at  (850) 906-9599 to schedule your free consultation.
Deprecated
: Function WP_Query was called with an argument that is
deprecated
since version 3.1.0!
caller_get_posts
is deprecated. Use
ignore_sticky_posts
instead. in
/var/www/wp-includes/functions.php
on line
5667