Florida Forklift Injuries and Workers' Comp
The construction industry is just one of the industries highly plagued with workplace accidents. This is true across the nation and the globe. As such, construction work in Florida follows suit and there are many Florida workplace accidents that happen for construction workers every year in the state. Workers in the construction industry may have to work outside in inclement conditions, work alongside active traffic, work with heavy machinery and large vehicles, work with toxic materials, and these are just a sampling of the potential workplace hazards active construction sites have. 
Forklifts are incredibly versatile and necessary for a variety of construction-related jobs. A forklift can move heavy or bulky items that must be transported from one place to another on an active worksite. An experienced and trained forklift operator is essential on an active construction site to ensure that when using a forklift, safety precautions are taken because, in the event of a misjudgment, construction workers surrounding the large vehicle are at serious risk of injury or death. If you suffered an injury while on the job, Florida workers' compensation benefits can help you with your medical care and even missed wages if you are out of work while you are healing.
What Type of Forklift Injuries Happen on the Job?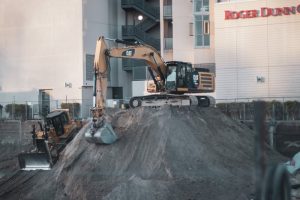 Forklift accidents are very common because of how often they are used in many construction workplace environments. Every single year there are more than 20,000 workers who will be injured from a forklift and an excess of 100 deaths. There are so many factors that go into why forklifts pose so many perils for workers that are nearby and even for the operator. While an unloaded forklift has its own set of dangers, a forklift that is overloaded can also cause extreme harm and damage to individuals in close quarters with the machinery.
To avoid accidents and injuries with forklifts it is necessary for construction companies to be proactive and have operating guidelines, safety measures, appropriate training on operations of a forklift, and expectations when it comes to operating such a large and dangerous vehicle. Also with regard to proactiveness with forklift measures, it isn't just important to have guidelines for when a forklift is in use but also when not in use. No unauthorized person should have the chance to operate the forklift at all.
If a forklift injury at work caused you physical harm that required medical care and time away from work, call Stephen M. Andrews. Stephen M. Andrews is a Tallahassee workers' compensation attorney that can help you with your Florida workers' compensation claim by ensuring you receive financial support from all the benefits you deserve under the law.
Speak to a Florida Workers' Compensation Attorney Today
Stephen M. Andrews is dedicated to helping victims of workplace accidents in the greater Tallahassee area secure the highest amount of compensation after they sustained Florida workplace accident injuries. Call Stephen M. Andrews today to schedule your free, no-obligation consultation at (850) 906-9599. When you need the most experienced, customized, and personalized legal representation, Stephen M. Andrews is the best option in Tallahassee with his more than 35 years of experience litigating Florida workers' compensation law.
Deprecated
: Function WP_Query was called with an argument that is
deprecated
since version 3.1.0!
caller_get_posts
is deprecated. Use
ignore_sticky_posts
instead. in
/var/www/wp-includes/functions.php
on line
5737